Bohica2K Art of Excellence Award

WOW! I love your art! Not much more to say except I was overwhelmed by the simplicity of each complex picture. It inspired me to whip out those brushes and acrylics and have at it! Congratulations on a job very well done. I have bookmarked your site for many return visits.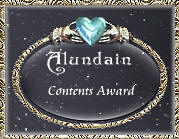 Alundain Contents Award

It is an honour for me to give you this mention. Congratulations, and warm regards from Argentina.