An Online Fine Art Gallery UCanBuyArt.com Buy original art from leading artists via our secure server. Paintings, sculptures, ceramics, prints, Inuit art,garden art, artist bears, etc. to compliment your home or office decor. Other features include chat rooms, art advisor, quizzes.
Oil Paintings and Acrylic Fine Art by bali-paintings.com Offers oil paintings and acrylic fine art including abstract, classical, wildlife and floral, people, and traditional themes.

Art.mam.net: The place to find or to add a site
Fonteam International
Tools for creative minds: fonts, cartoons, illustrations, logotypes, royalty free photos, fine art
Bryce Brown Art
Bold, figurative paintings from New Zealand, using strong line, texture and color to capture the essence of the human form.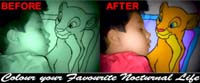 Colorize Black and White Photographs Easily add color to black and white photographs and images with their powerful yet simple to use software.
Watercolor Paintings by Francis Camilleri Amazing watercolor and oil paintings by a Quadriplegic Artist, with directory on site.