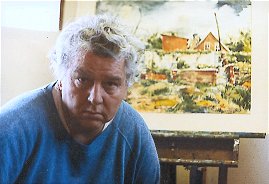 I was born in January 1928 in Washington, DC to a humble family with no art background. Growing up in a sleepy southern town that DC was before World War II in a lower-middle class residential area with vacant lots, woods, brick yard and pond was a wonderful way to grow up. A ninth grade Home Room teacher encouraged my drawings from comic books, especially Prince Valiant, and this led me to major in art at Tech High School. My 11th and 12th grade teacher, Miss Gertrude Brown, a spinster old maid, encouraged me in my art and I flourished as an art student in watercolor. In the room there was a print of an Edward Hopper watercolor of an old white house that just fascinated me. Also, a Paul Cezanne still life spoke strongly to me. I sold my first watercolors while I was at Tech. That was a thrill.

After a little over a year in the US Coast Guard I had the GI Bill to help me and I went to George Washington University majoring in art. I was the first in my extended family to attend college. It was a big deal. I thank God over and over for the GI Bill -- it changed my life. My family could not have sent me to school. I also drove a taxi cab in DC between and after classes to support my young family. (We had married after I had finished one year of school.) My instructors included Richard Lakey, Eugene Weiz, and Charles Forsythe. In college, besides art courses (primarily painting and drawing), I took education courses. After graduation, I was accepted as a green-as-grass art teacher at Aberdeen Junior and Senior High School, Aberdeen, Maryland in 1953. (Aberdeen alumnist Cal Ripkin of the Baltimore Orioles came much later.)

Three years later I moved to Montgomery County, Maryland to teach 10 years at Northwood HS, Wheaton, Maryland. While there I went back to George Washington University and the Corcoran (where I received a first prize in Advanced Design) and earned my Master of Fine Arts in painting. At this time I began to show and win first prizes for my work in the DC area. I was also president of the Montgomery County Art Council. During that time, I had arranged stimulating, innovative programs such as an expert from the National Gallery of Art and a film maker who had done an award-winning film on Van Gogh to come and show the film and talk to us.

After earning my MFA, I wanted to teach art at the college level and was offered a position as instructor at Edinboro State College in little Edinboro, Pennsylvania, a small town near Lake Erie among rolling hills and farm land. We did not know about the 10 feet of snow yearly. We purchased an old farm house on a dirt road and lived a good life there. I taught Drawing, Basic 2-D Design, and Painting.

After a few years, I became assistant chairman of the Art Department, in which capacity I served the department 10 - 15 years. During this time we became a university, and we developed an MFA program in which I also taught graduate painting courses as well as serving as an advisor to graduate students. During this time I was accepted in large national shows at Chautauqua Institute, Chautauqua, New York; Butler Institute, Youngstown, Ohio; the Museum of Art in Springfield, Massachusetts; etc.

I developed a painting workshop that was a part of the Wallops Island Science Consortium, on the Eastern Shore of Virginia. I taught the class for 3 weeks in the summer for a number of years. Two summers I took the class to the Maine coast for three weeks where we lived in a rustic 4-H camp near Camden, Maine. The students and I worked on location and had a great time.

I retired as a full professor at the end of 1989 and moved out of the Pennsylvania snow belt to the eastern panhandle of West Virginia near family and Washington, DC. We built a studio onto our house, which included a small gallery to show my work. I have been active with the Boarman Art Center in Martinsburg, West Virginia, including being artist-in-residence; in Front Royal, Virginia at the Blue Ridge Art Council (BRAC) and at the Ice House Gallery and co-op in Berkeley Springs, West Virginia. I have continued to win awards since moving here.

I'm 73 -- but there are still developments and ideas I want to express in my paintings. Someday, I would like to try to sum up what I've learned about art in some glorious, emotional, expressive paintings with glowing colors.

Wayne Peterson
June 12, 2001


Professional Life:
Wayne Peterson recieved a BA and an MFA in painting from George Washington University in Washington, D.C. Further postgraduate studies include work at the Maryland Institute of Art, Cleveland Institute of Art, University of Buffalo, and Allegheny College in Pennsylvania. He taught art for 36 years -- the latter 23 years at Edinboro University of Pennsylvania, where he taught painting, watercolor, drawing and 2-D design. He retired from EUP in December of 1989 and is now a Professor of Art Emeritus.


Award Highlights Include:
Best Landscape
Evans Run Art Assoc. Show

First Prize
Meadville Council of the Arts Show

First Prize
Religious Art Festival

First Prize
Washington DC Landscape Club Members Show

First Prize
Montgomery County Art Assoc Fall Show
First Prize
Cancer Benefit Art Show
First Prize
Southwest Redevelopment Art Fair

First Prize
Montgomery County Art Assoc Fall Show
First Prize
Rockville Art League Spring Show
First Prize
Cancer Benefit Art Show
First Prize
Corcoran School of Art Advanced Design Competition
Show Highlights Include:


Over 200 One- and Two-Person Shows.

Memberships:

Personal:
Wayne Peterson is a native of Washington, DC, and as such is a serious Washington Redskins fan. (Go 'Skins!) Wayne has always enjoyed traveling, and has done so extensively in the US. More recently he has expanded his travels to include Europe and the British Isles. Wayne also enjoys golfing, gardening, reading, and continuing his dialogue with paint.