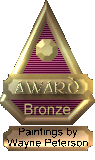 World of Asder
Asder-Award © in Bronze

You´ve presented in an impressive manner the Artist Wayne Peterson and his works. With hard work You´ve set up a presentation, which really can be named as a "pearl of the WWW".

SilverSpike Awards
Gold SilverSpike Award

It is with great pleasure, pomp and circumstance that we award your site with our 'esteemed' honors. Your use of negative space is great- the colors and theme of your page [are] aesthetically appealing with a nice atmosphere. Wayne's artwork is marvelous and carries the body of your website endeavor.