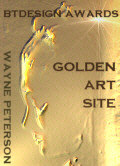 BTDesign
Golden Art Site Award

You're a very talented artist and your site lets us appreciate all sides of your artistic personality at its best. The design and layout are really good and I enjoyed my visit very much.

Art Gallery Online
Gold Art Award

We have recognized your artwork as remarkable and a proof of beauty, a wonderful addition to the web. Your artwork is beyond beautiful, simply breathtaking. Such a pleasure to view it, we were lost in it! Could have spent hours upon hours in there. Utterly delightful!